General News
European Union takes step toward easing travel restrictions for vaccinated visitors
3 hr 19 min ago
European Union takes step toward easing travel restrictions for vaccinated visitors
From CNN's Sharon Braithwaite and Stephanie Halasz
The European Union will begin to ease travel restrictions to the bloc, with the EU Council agreeing on measures to allow fully vaccinated foreign visitors in. 
The bloc's 27 ambassadors green-lit a plan to implement waivers for vaccinated people and relax criteria to lift restrictions for third countries on Wednesday. The proposal also includes an emergency brake mechanism that would allow the EU to react quickly to variants of interest or concern, an EU Portuguese presidency spokeswoman said on Twitter.
An EU official told CNN that if member states accept proof of vaccination to waive travel restrictions, such as testing or quarantine, they should in principle lift restrictions on non-essential travel for third-country visitors. The EU will also take into account reciprocity, according to the EU official, who asked not to be named as the recommendation had not yet been adopted.
The EU Council is expected to formally adopt the recommendations, which are not legally binding for member states, on Thursday, the EU official added. 
3 hr 2 min ago
Kenyan health minister: Vaccine nationalism is to blame for country running out of doses
From CNN's Bethlehem Feleke, Larry Madowo and Saskya Vandoorne in Nairobi
Kenya is just days away from running out of Covid-19 vaccines with only about 100,000 AstraZeneca doses left, the country's health minister Mutahi Kagwe told CNN, blaming vaccine nationalism for eroding supply chains and triggering shortages.
"As a continent, we must stop believing that there is anybody out there who is a Good Samaritan, a biblical Samaritan who is just about to come and help us. It's everyone for himself or for herself," Kagwe said. "Going into the future, the local production, local manufacturing of pharmaceutical commodities and products is an absolute must."
Many African countries like Kenya had relied heavily on vaccines from the global vaccine sharing initiative, COVAX, which largely depended on vaccine supplies from the Serum Institute of India (SII), the world's largest vaccine manufacturer. But a vicious second wave of coronavirus in India has led to an export restriction by the country, and the SII said Tuesday they will be unable to ship vaccines until the end of 2021.
To cope with shortages, Kenya's health ministry will take back doses from regions where uptake has been slow and redistribute them to begin the process of second jabs by the first week of June. Kenya is expecting an additional 150,000 doses from neighboring countries like the Democratic Republic of Congo, where there is no capacity to administer doses before they expire in June.
"We are still vaccinating, but we are at the tip, we need vaccines like, yesterday," Kagwe said.
Less than 2% of Kenya's population of more than 52 million have had their first shot, according to Our World in Data.
After ongoing delays in shipments from India, AstraZeneca's Covid-19 vaccine is unlikely to remain the "vaccine of choice for the African continent," Kagwe said.
"It is very likely that we are going to discuss and agree on Johnson & Johnson. First it is being produced here in Africa and secondly, there is an arrangement for a number of doses that are going to come to (the) Africa platform."
Kenya has ordered 30 million vaccines from Johnson & Johnson. The health minister hopes the majority of the adult population will be vaccinated by next year, urging, "the sooner we have our 30 million doses, the sooner we finish."
Leaders across the globe have decried the inequity of vaccine nationalism in light of Africa having only carried out fewer than 1% of the global vaccinations, according to the WHO.
On Tuesday, French President Emmanuel Macron said the setup was "unfair and inefficient" and called for patents on vaccines to be lifted so countries in Africa could manufacture them locally.
4 hr 18 min ago
African countries have struggled to secure enough Covid-19 vaccines. So why are thousands of doses going to waste?
From CNN's Nimi Princewill in Abuja and Eliza Mackintosh in London
While many African nations are still struggling to get enough Covid-19 vaccines to protect their populations, those that have managed to shore up doses are struggling to administer them in time. Now they're facing the bitter reality of having to destroy thousands of expired doses.
South Sudan has announced plans to discard about 59,000 of 191,000 doses of the AstraZeneca vaccine it received in donations. In Malawi, at least 19,000 expired doses of the AstraZeneca vaccine will be publicly incinerated on Wednesday, the country's health ministry said in a statement to CNN. Meanwhile, more than 1 million AstraZeneca doses acquired through vaccine-sharing facility COVAX have been returned by the Democratic Republic of the Congo (DRC), following concerns that the shots may expire before they make it into arms.
A spokesperson for GAVI, the vaccines alliance that runs COVAX with the World Health Organization, told CNN that vaccines were only delivered through the scheme to countries who were ready to hit the ground running with immunizations and that all COVAX participants were informed of vaccine expiry dates in advance.
But African nations trying to scale up rollouts against the backdrop of weak health infrastructures, hard-to-reach rural areas and vaccine hesitancy are facing an uphill battle.
WHO told CNN that the destruction of expired vaccines was "deeply regrettable," especially in a context where doses are already scarce. But that the move was ultimately justified, especially in trying to build confidence among the public that vaccination programs are safe and effective.
"Discarding vaccines is deeply regrettable in the context of any immunization program," said Kate Ribet, spokesperson for WHO Africa's Covid-19 vaccine rollout.
"However, given the complex process required to verify their stability, and the risk of negative perception related to the use of expired doses, WHO recommends that COVID-19 vaccines already in the distribution chain should not be used beyond their labeled expiry date and should be safely disposed of."
Read more about the African nations having to dispose of Covid-19 vaccines:
5 hr 20 min ago
President Macron enjoys a "café en terasse" as restrictions begin to ease in France
From CNN's Barbara Wojazer in Paris
French President Emmanuel Macron hailed a return to normal life over a "café en terasse" in Paris on Wednesday as bars, restaurants and cultural venues reopened at partial capacity for the first time in six months.
"Here we are! Terraces, museums, cinemas, theaters … Let's find what makes our way of life. While respecting social distancing," Macon said on Twitter, sharing a video of himself laughing and chatting with French Prime Minister Jean Castex at one of the city's beloved café terraces.
Wednesday marked a key step in government plans to carefully ease restrictions, six months after a second nationwide lockdown was issued in October amid mounting Covid-19 cases.
Infections have continued to drop since France hit the peak of its third Covid-19 wave in late April, falling to 14,000 daily cases over the last week compared to nearly double that figure three weeks ago. On Tuesday, France recorded 4,352 patients hospitalized in intensive care units, down from 6,001 patients at the peak.
7 hr 13 min ago
Taiwan tightens Covid-19 restrictions as it fights its biggest outbreak of the pandemic
From CNN's Eric Cheung in Taipei, Taiwan
Taiwan's Central Epidemic Command Center (CECC) announced tightened Covid-19 restrictions on Wednesday after the island reported 275 new cases.
Some 267 of the infections were locally transmitted, with around 70 in the capital, Taipei, and 129 in the surrounding New Taipei City.
The Covid-19 alert level for the whole island will be raised to level 3, the second-highest grade, Taiwan's Health Minister Chen Shih-chung said. Taipei and New Taipei City were already placed under level 3 since last weekend.
Chen said Covid-19 cases have been detected in more cities across the island, which made it necessary to raise the alert level.
Changhua county on the island's central west coast reported 28 new cases Wednesday, the highest number it has seen since the pandemic began.
Under the new restrictions, no more than five people may gather indoors at any one time, and no more than 10 people may gather outdoors. Some non-essential facilities will also be closed.
The island's current Covid-19 outbreak is relatively small compared to those in other parts of the world, but is an unfamiliar situation for Taiwan, which has until now managed to avoid a serious spike in cases.
Taiwan is expected to receive 400,000 additional doses of AstraZeneca Covid-19 vaccines from the Netherlands on Wednesday, according to the official Central News Agency.
The island has one of the lowest vaccination rates in the world, with fewer than 1% of its 23 million-strong population inoculated, according to data compiled by CNN. 
7 hr 33 min ago
IOC chief says Olympics will be held safely despite Japan's Covid surge
From CNN's Carly Walsh
Less than 10 weeks out from the postponed start to the Tokyo 2020 Olympics, organizers have promised athletes they are doing everything they can to ensure the Games take place safely.
Japan is struggling with a renewed outbreak of coronavirus, with only about 1% of the population vaccinated — renewing calls for the Olympics to be canceled.
Speaking at a meeting of the coordination committee Wednesday, International Olympic Committee President Thomas Bach said Japanese and Tokyo 2020 officials would make the right decision on managing the situation, and the risks had been managed well so far.
Bach and other officials — both from the IOC and Japanese sporting bodies — pushed back against critics, with the IOC president saying his organization has offered to provide additional medical personnel to help pull off strict anti-Covid measures alongside the Tokyo government.
He added that 75% of people who plan on being in the Olympic Village have already been vaccinated, while organizers hope the final number will be more than 80%.
Bach said the existing plans have been tested with foreign athletes in several test events — none of which turned into super spreader events.
Tokyo 2020 President Seiko Hashimoto, also speaking at the opening of the meeting, said the purpose of Wednesday's session was to focus on the protection of athletes and the public. She said the two main focuses would be the frequent testing of athletes and separating them from the Japanese public.
Earlier this month, an online petition calling for the Games to be canceled garnered 350,000 signatures in nine days, while the CEO of leading Japanese e-commerce company Rakuten has called plans to host the Games a "suicide mission."
Read more: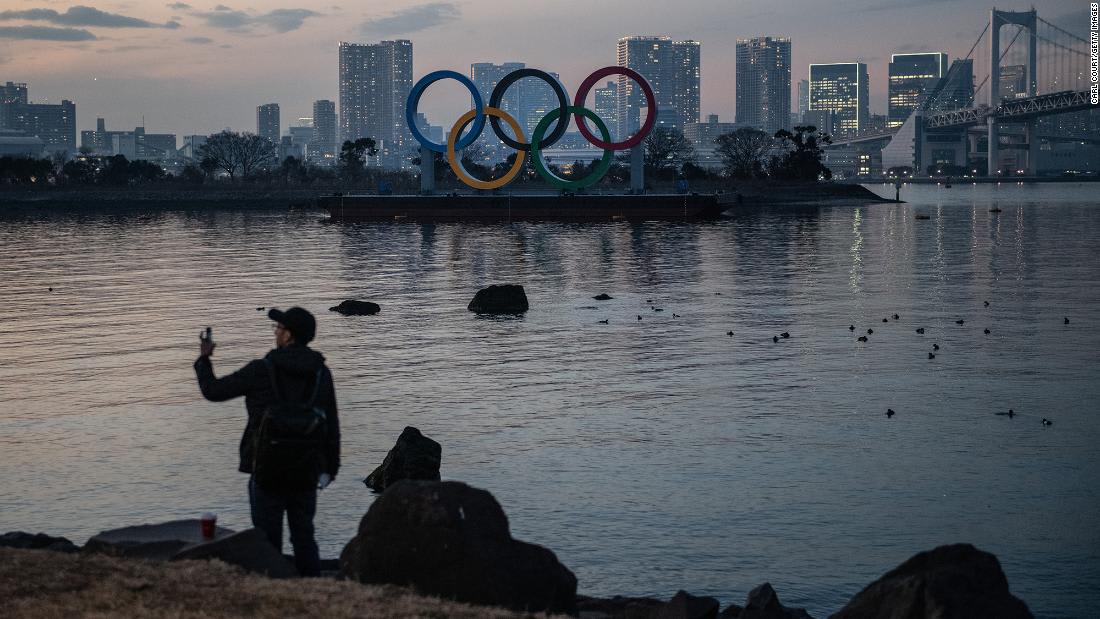 8 hr 54 min ago
Fear over fresh Covid-19 outbreaks sees China vaccinate 100 million people in 9 days
From CNN's Ben Westcott in Hong Kong
As vaccination hesitancy slows inoculation rates in some Western countries, China is going into overdrive.
Over 400 million doses of Covid-19 vaccines have now been administered in China, according to the National Health Commission — more than in the United States, the United Kingdom and Germany combined.
Of course, 400 million doses doesn't even cover half of China's population of 1.4 billion people, but the vaccination rate is speeding up. Chinese authorities announced the first 100 million people had been vaccinated on March 27. After that, it took another 26 days to reach 200 million, and then 17 days to hit 300 million.
The latest 100 million doses were given in just nine days.
While there has been a concerted push for vaccines by the central government and local authorities, that campaign has been helped recently by another factor — fear.
What happened? Anhui and Liaoning provinces have both seen a large spike in vaccinations over the past two weeks, following small local outbreaks of Covid-19 — 17 and 25 cases, respectively.
But that was all it took for Anhui to inoculate more than 1.1 million people in a day on May 16. The province's average daily vaccination rate was more than 840,000 in the past week.
In Shenyang, the capital of Liaoning province, there have been more than 100,000 vaccinations a day since May 12, according to state-run news agency Xinhua.
The impact of the new outbreaks has also been felt nationwide: on Friday alone, 14 million people were vaccinated across China, days after the news broke of cases in Anhui and Liaoning.
And in Beijing, almost 80% of those age 18 and over have now received at least one dose of a Covid-19 vaccine, the state-run Global Times said this week, bringing the capital close to the coveted goal of achieving herd immunity.
Read more: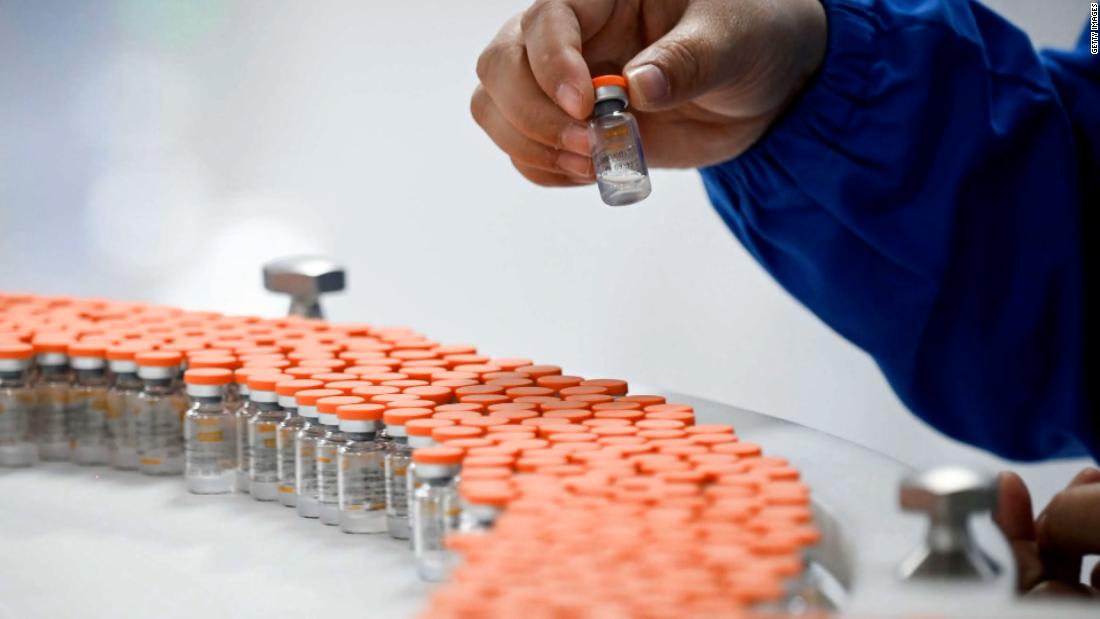 9 hr 15 min ago
Hong Kong gym superspreader event highlights risk for Covid-19 transmission in confined spaces, study says
From CNN Health's Lauren Mascarenhas
A superspreader event at a Hong Kong fitness center highlights the risk of Covid-19 transmission in confined spaces with poor ventilation, according to a study published by the US Centers for Disease Control and Prevention Tuesday.
Researchers with the University of Hong Kong studied how a trainer infected with Covid-19 was connected to 101 subsequent cases among gym visitors and 53 close contacts.
On March 10, a 27-year-old trainer at a fitness center in Hong Kong with no symptoms tested positive for Covid-19, according to the study. Since the trainer had been teaching in-person classes between February 28 and March 8, the gym was closed to the public and local health authorities began contact tracing.
About 300 people who visited the fitness center between February 25 through March 10 were required to be tested, and of those, seven staff members and 94 customers tested positive.
More than 80% of those cases were detected within three days of the trainer testing positive. The team also reported 53 close contacts of those cases tested positive for Covid-19, despite having no link to the fitness center.
Of the 102 cases connected to the gym, 46 showed no symptoms when they were tested — a much higher proportion of asymptomatic cases than in the general Hong Kong population, researchers noted. The team said it wasn't clear why that was, although they noted the 102 cases were younger on average than the general population.
How it happened: The team used virus sequencing to determine the event had been caused by a "single virus introduction."
Visitors to the fitness center were not required to wear masks at the time of the outbreak and the gym had poor ventilation, which researchers said may have played a major role in the outbreak. 
After the outbreak, new recommendations were put in place to prevent similar outbreaks.
"Our finding highlights the risk for virus transmission in confined spaces with poor ventilation and limited public health interventions," the researchers wrote.
9 hr 33 min ago
Taiwan's presidential office criticizes China for blocking its access to Covid-19 vaccines
From CNN's Eric Cheung in Taipei, Taiwan
Taiwan's presidential office has criticized China for blocking its access to Covid-19 vaccines as the self-ruled democratic island faces a new outbreak of the virus.
Kolas Yotaka, the office's spokesperson, said Wednesday that Taiwan's access to vaccines had been "slowed down by Chinese interference."
"If you really want to help please don't stand in the doorway, don't block up the hall," she tweeted from her verified Twitter account.
The comments came after China's Taiwan Affairs Office said Monday that Beijing was willing to "spare the most efforts in helping our Taiwan compatriots win the fight against the epidemic as soon as possible."
Taiwan has repeatedly accused Beijing of slowing its vaccine procurement from around the world. In February, Taiwan's Health Minister Chen Shih-chung said during a radio show that a deal with Germany's BioNTech was unsuccessful due to political pressure from China.
In response to China's statement, Taiwan's Mainland Affairs Council said Monday that "the opposite shore does not need to fake good intentions."
"If mainland China does not obstruct us, we can procure more reliable vaccines from around the world even more quickly," it said. "If the Chinese Communist Party really places livelihood first, it should stop sending military planes to disturb Taiwan, and allow Taiwan focus on fighting the epidemic."
China has been increasing its air deployments around Taiwan in recent months, sending dozens of warplanes into the island's air defense identification zone.
Vaccine research: Separately, Taiwan's President Tsai Ing-wen said the island is currently developing two Covid-19 vaccines, and they are expected to be made available as early as the end of July. The two vaccine candidates are currently at the end of stage 2 clinical trials, and the government will continue to offer support, she added.
Taiwan has one of the lowest Covid-19 vaccination rates in the world, with less than 1% of the 23 million population immunized, according to data collated by CNN.
Source: European Union takes step toward easing travel restrictions for vaccinated visitors